We are excited to announce that we had not one, but TWO teachers nominated for The Golden Apple Award! Voting will continue through the rest of February with the winning teacher announced in the beginning of March. We encourage you to vote, vote, vote!
https://midmichigannow.com/.../mid-michigan-now-golden
... Click the link above, register your account if you don't already have one, click vote, select your candidate and save your vote!

Thank you to Sololoearn for the donation of coding materials! (normally $70 per kid! = $630 in savings) This donation will help students interested in coding gain a lot of hands on learning experience! They can't wait to use it! #WeAreMerrill #VandalPride

Congratulations Merrill Middle School Cheer on an undefeated season! Great job Lady Vandals!

Just a quick note about tonight's basketball games at home VS Ashley: There is NO JV GAME. Due to this the times have been adjusted. Girls Varsity will play at 5:30 pm and Boys Varsity will follow! We hope to see you there. Good Luck Vandals!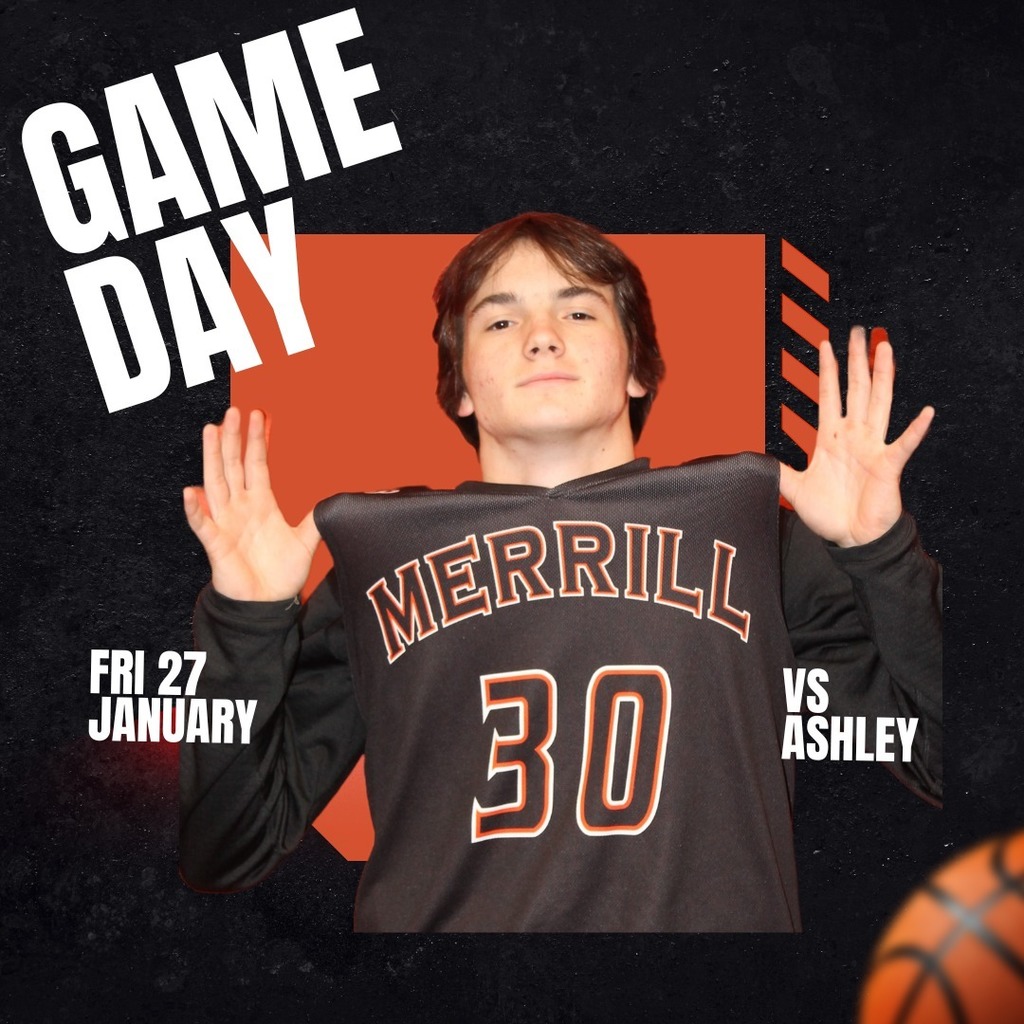 Congratulations to Merrill Varsity Competitive Cheer for another 2nd place at the MSAC League Competition last night! You looked great on mat Vandals! #WeAreMerrill #VandalPride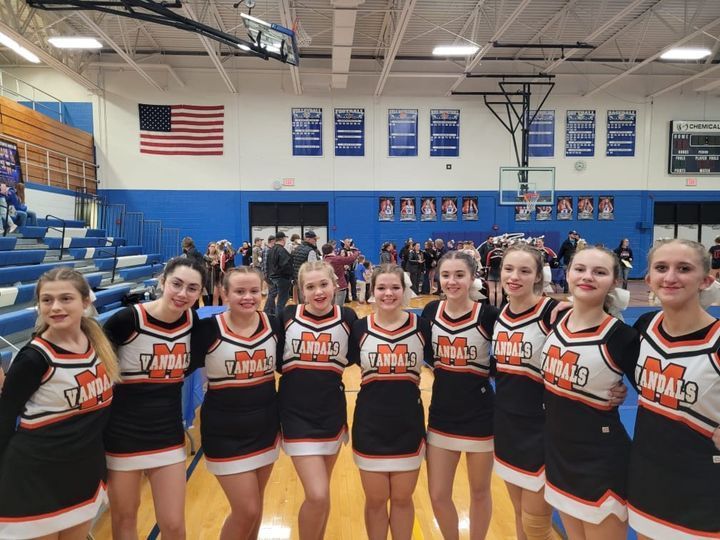 Merrill Varsity Cheer has been working extremely hard this year! They took 2nd place out of 23 teams on Saturday at the Perry Invitational! Great job ladies! #WeAreMerrill #VandalPride

On Monday, January 16, 2023 there will be no school for students as teachers and staff participate in professional development. Professional development is crucial for the growth of our staff. The investment into our staff transfers to the investment of our students. At Merrill Community Schools, we are all lifelong learners. We will see everyone back on Tuesday, January 17, 2023. Have a great weekend! #WeAreMerrill #VandalPride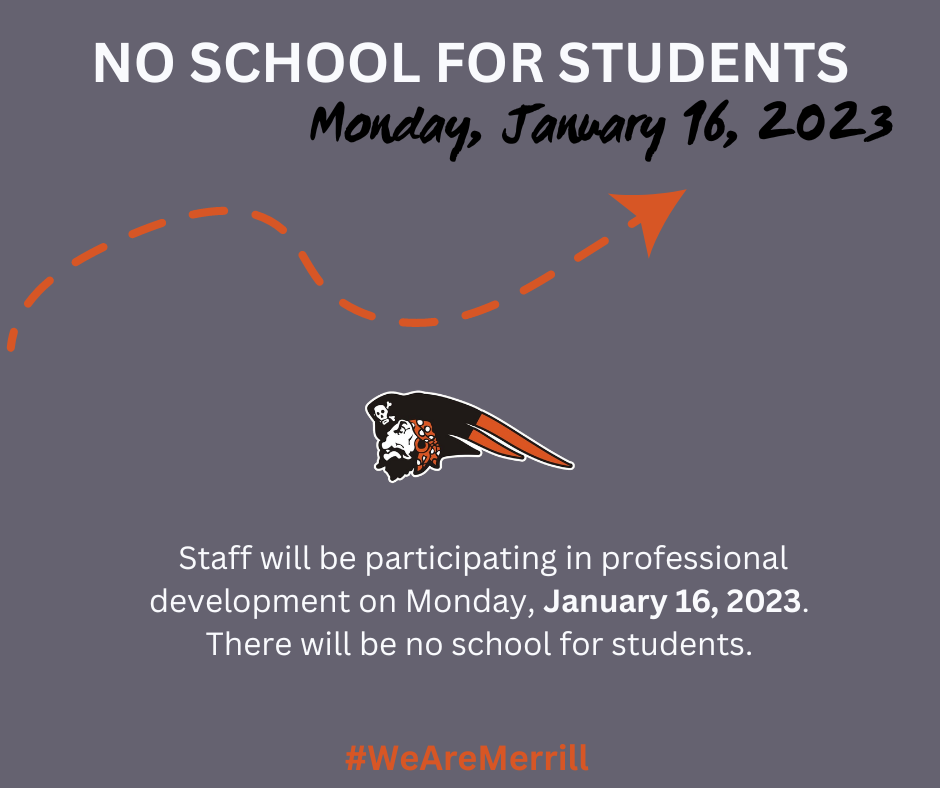 Did you know that Merrill High School participates in many club activities through the MSAC League? This year the Merrill High School Quiz Bowl Team had a great time competing and tied for second place overall in our league! Great job Vandals! #WeAreMerrill #VandalPride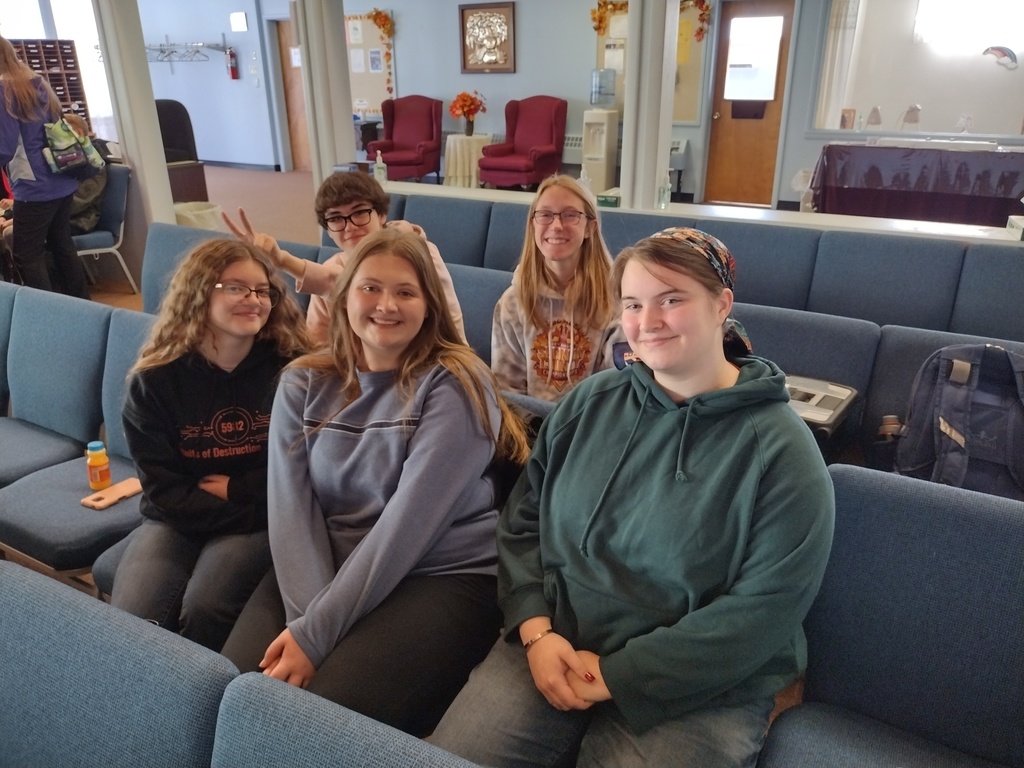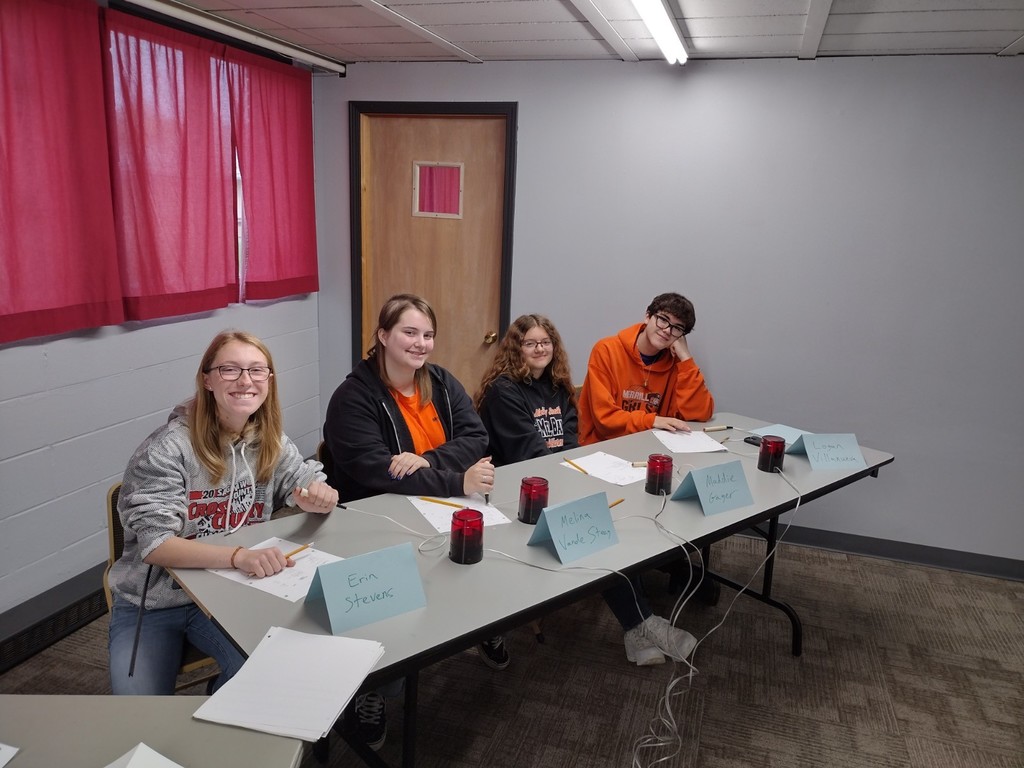 Thank you to Game On in Midland for their generous donation! This program would not be possible without help from the local businesses like you! Together we can do great things. #WeAreMerrill #VandalPride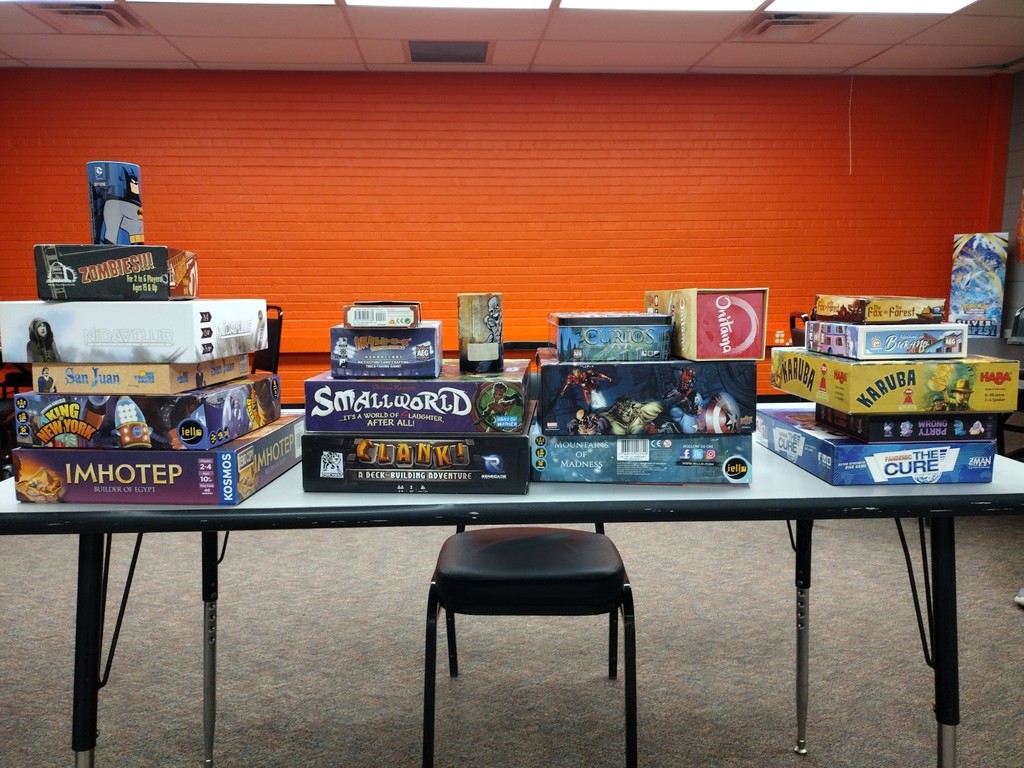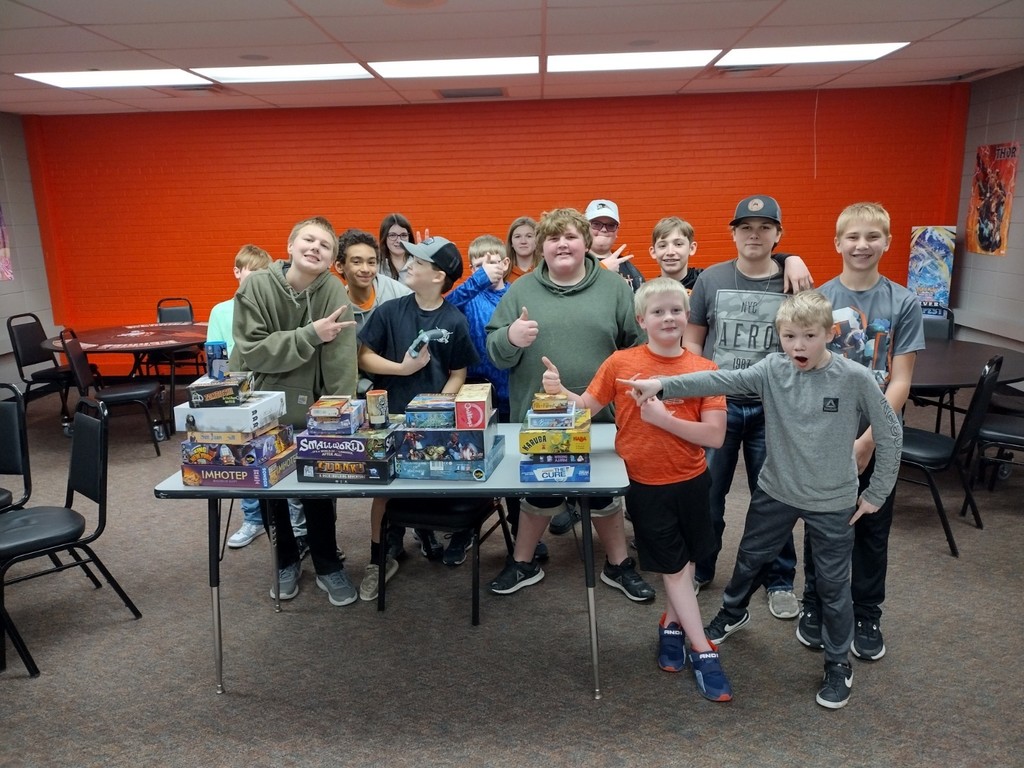 Our Varsity Girls Basketball Team will carry the momentum of last week's big win over Vestaburg into this week's schedule. They will battle the St. Louis Sharks tonight at 6:00 pm and will face the Breckenridge Huskies on Wednesday at 6:30 pm. Good luck on the road this week Lady Vandals! They will bring it back home for a Friday night game VS the Montabella Mustangs!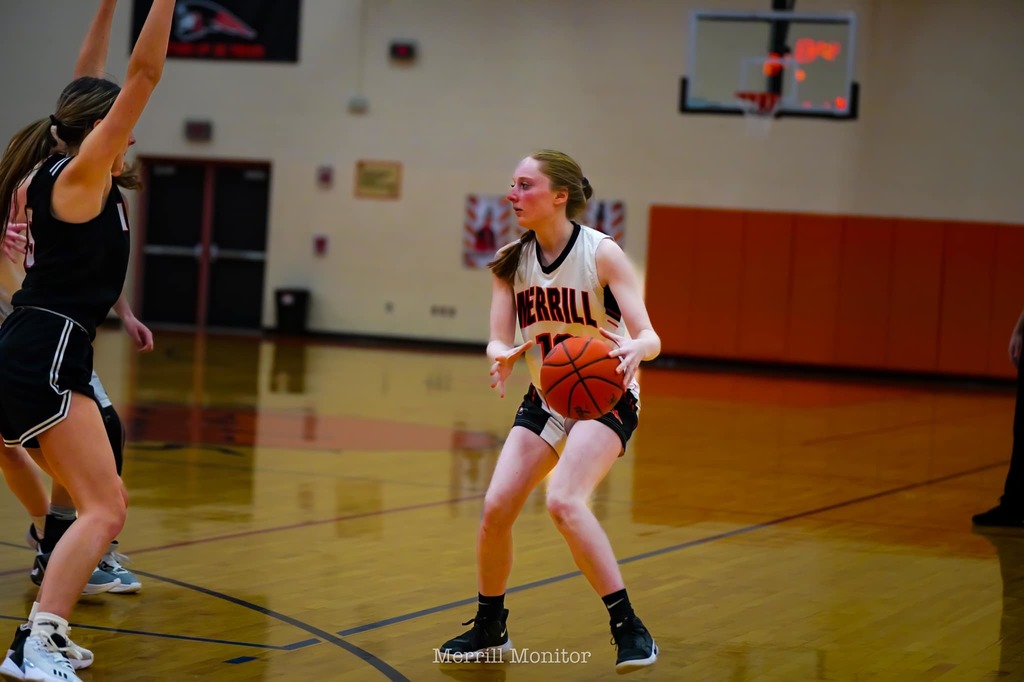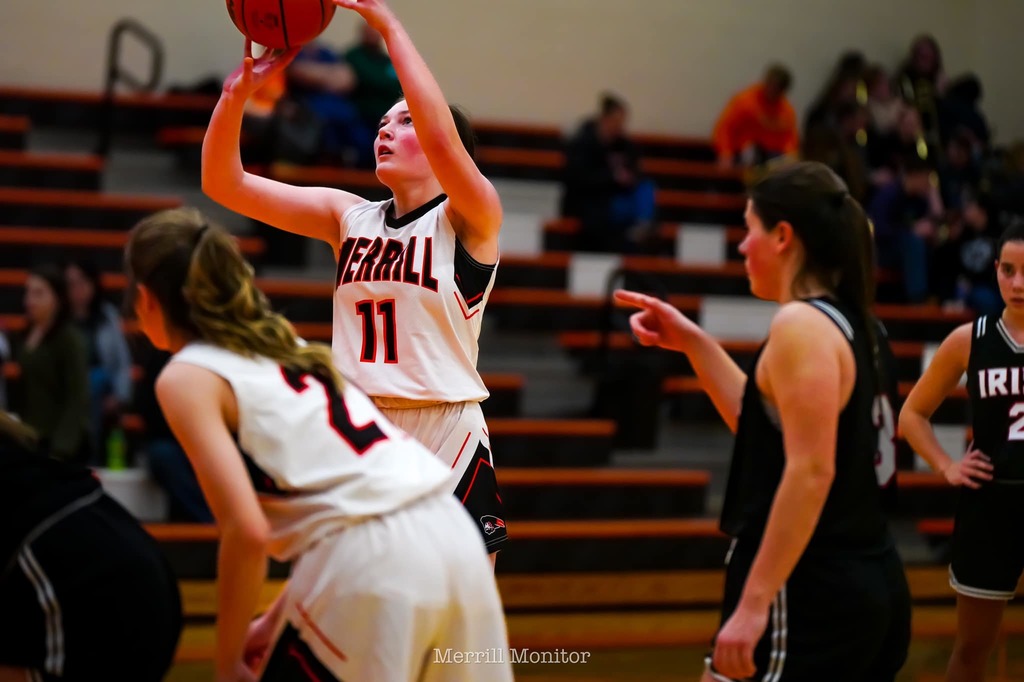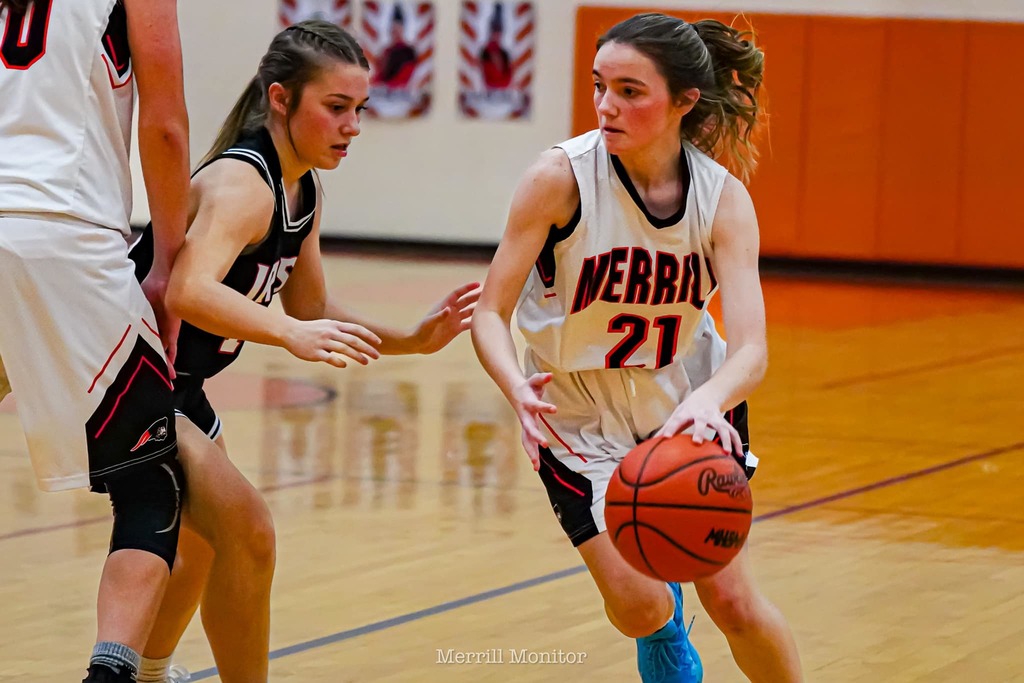 Congratulations Sage and Branson! You make Merrill proud! #WeAreMerrill #VandalPride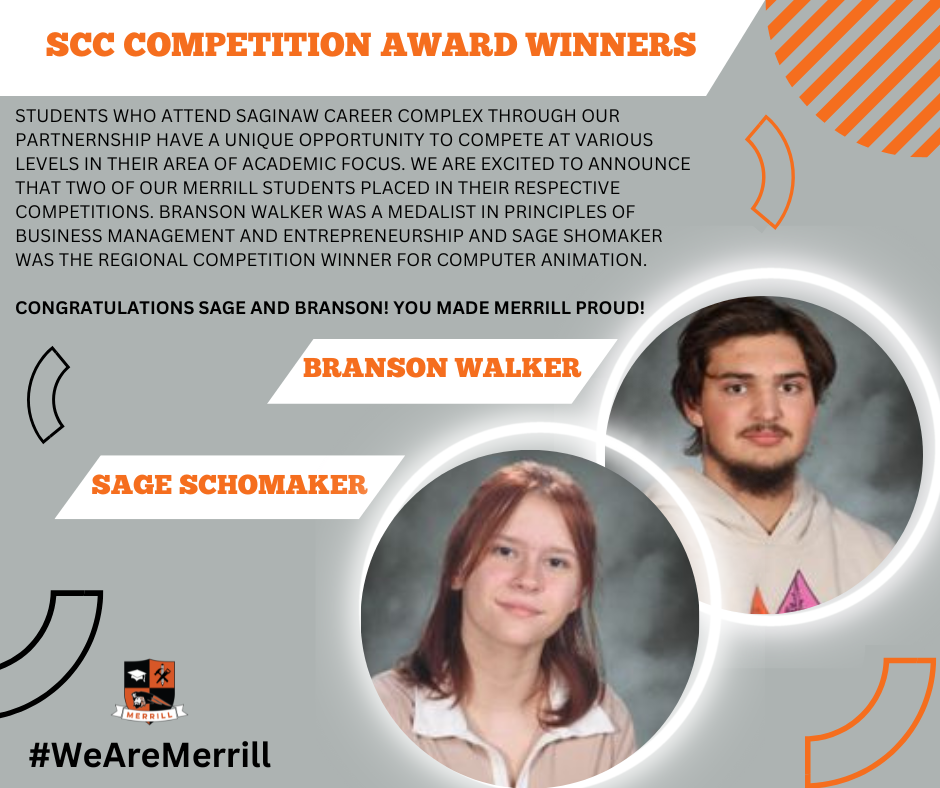 We are excited to welcome students back to school tomorrow, Wednesday, January 4, 2023! We hope you all had a restful and joyful holiday season. It is the beginning of second semester for Middle and High School Students. Please be prepared to begin your new class schedule! #WeAreMerrill #VandalPride

Did you know that one of our mental health practitioners, Ms. Stacey Smyczynski, has been working with 3rd, 4th and 6th grade students on their physical, emotional well being? At Merrill we focus on developing the whole child. Education goes beyond just math, science, social studies and english. We want students to thrive in every aspect of their daily lives. This weekly program called, TRAILS, just wrapped up. Students learned skills to increase resilience and an ability to bounce back after going through challenging things and how to focus on a positive mindset. Learning coping skills and self-care techniques are incredibly valuable for anyone. We hope to create a mindful culture of learners who care for themselves and others. #WeAreMerrill #VandalPride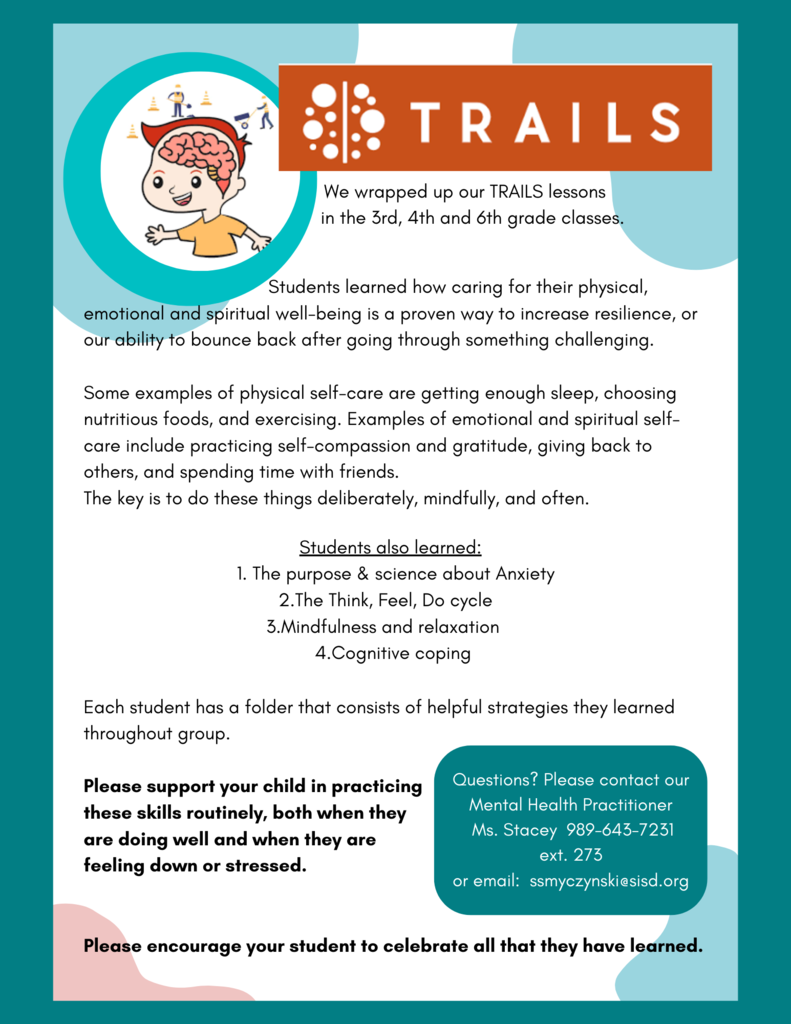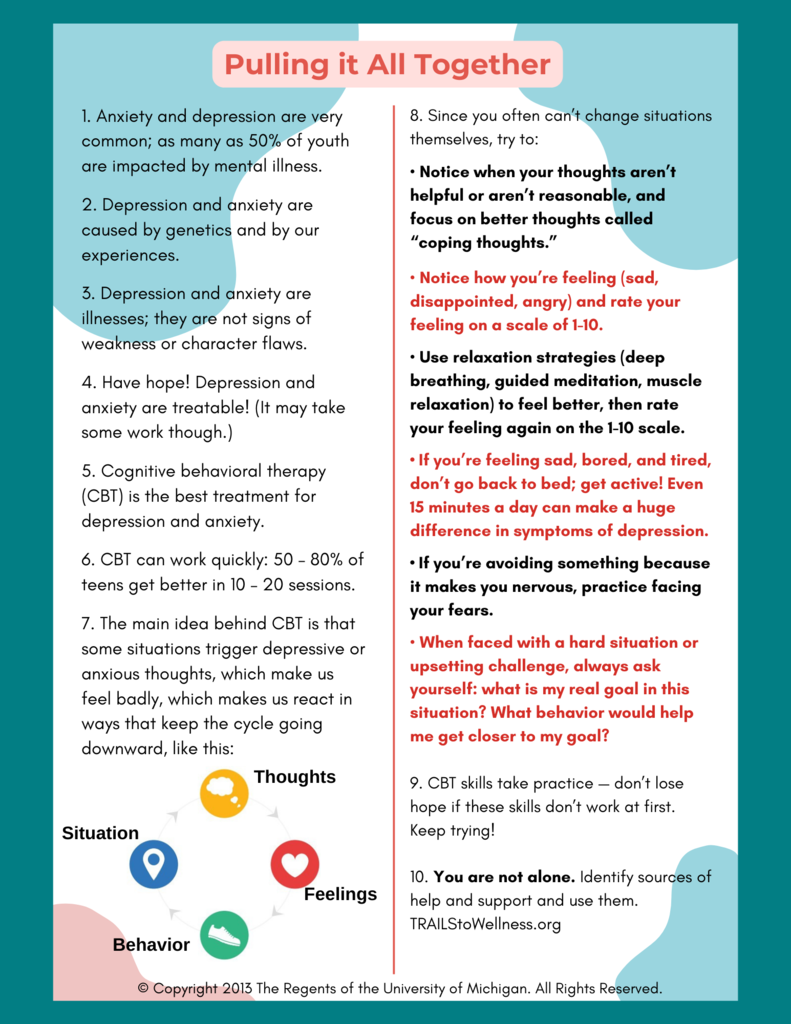 Join us for a wonderful Holiday Concert! #WeAreMerrill #VandalPride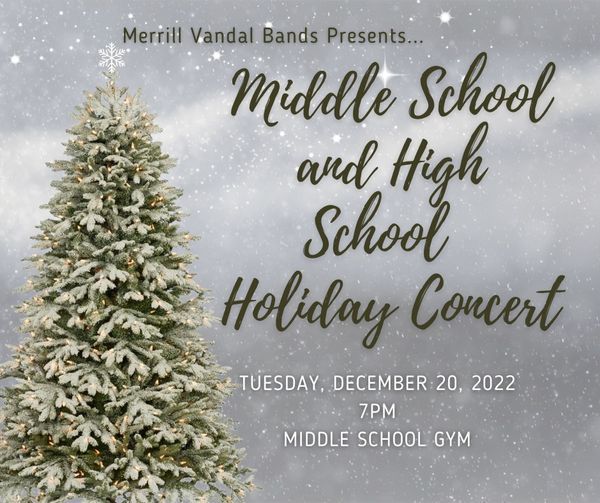 I wanted to take this opportunity to introduce a new face to everyone. We don't usually introduce substitutes, but Mr. Williams will be subbing around the district when one of our administrators takes some of their hard earned time off. Mr. Mark Williams is a retired principal from Standish Sterling. He has been a principal at all levels, elementary, middle and high school over the last 20 years, retiring in 2021. He has experience working with students, parents, and community members to ensure daily procedures and all aspects of running a school building. He has the ability to create and maintain a collaborative work environment that encourages open communication among stakeholder. I've talked to many people that know Mark and have worked with him. They all conveyed very positive opinions of Mark and his work. Part of what makes Merrill a great place is our care and respect for each other. Part of this is honoring the hard work that our staff puts in is making sure that they are able to take time when it is needed. In our small school we have many that are filling multiple roles. After reflecting on our staffing structure we decided to explore the substitute administrator option. Upon talking to the Saginaw ISD Mark's information was shared with us. We are excited that we are able to have someone of this caliber help out as needed throughout the year. I know our Merrill Community will welcome Mr. Williams into our Merrill family.


Due to icy road conditions there will be no school today, Friday, November 18th.

Middle and High School Parent Teacher Conferences will take place this Thursday, October 27th from 12:00 noon - 3:00 pm and again from 5:00 pm - 7:00 pm. Please be aware that this will be early release at 11:30 am for MS/HS Students ONLY!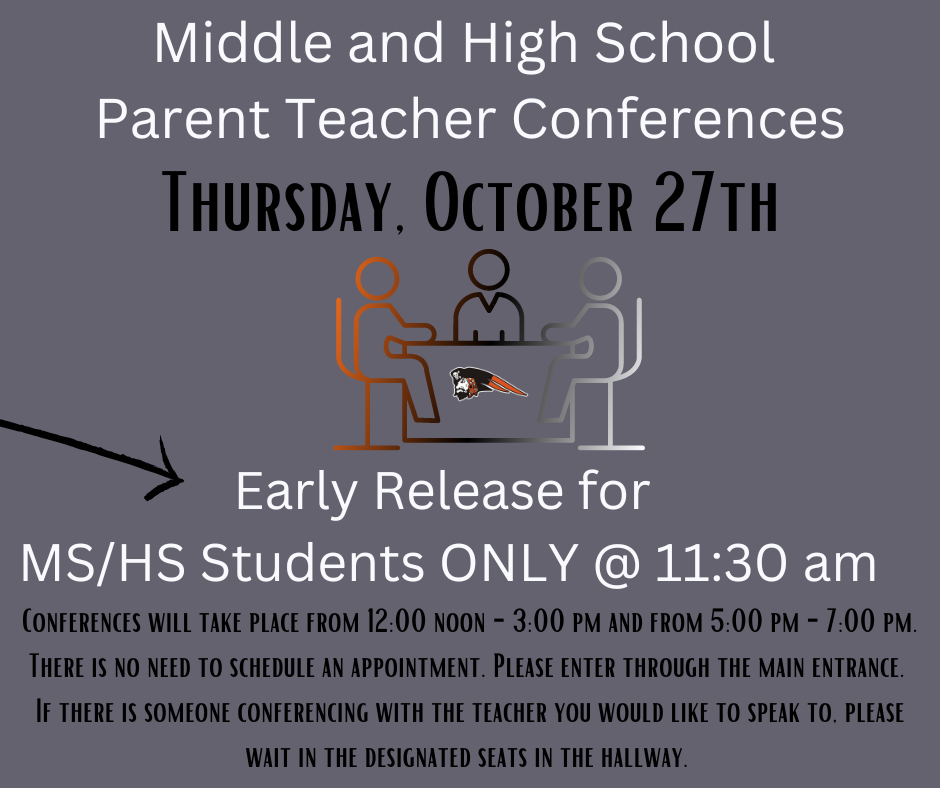 Just a friendly reminder that this Wednesday, October 26, 2022 is a late start half day. Students should report at 11:00 am. Doors will be unlocked at 10:45 am. #WeAreMerrill #VandalPride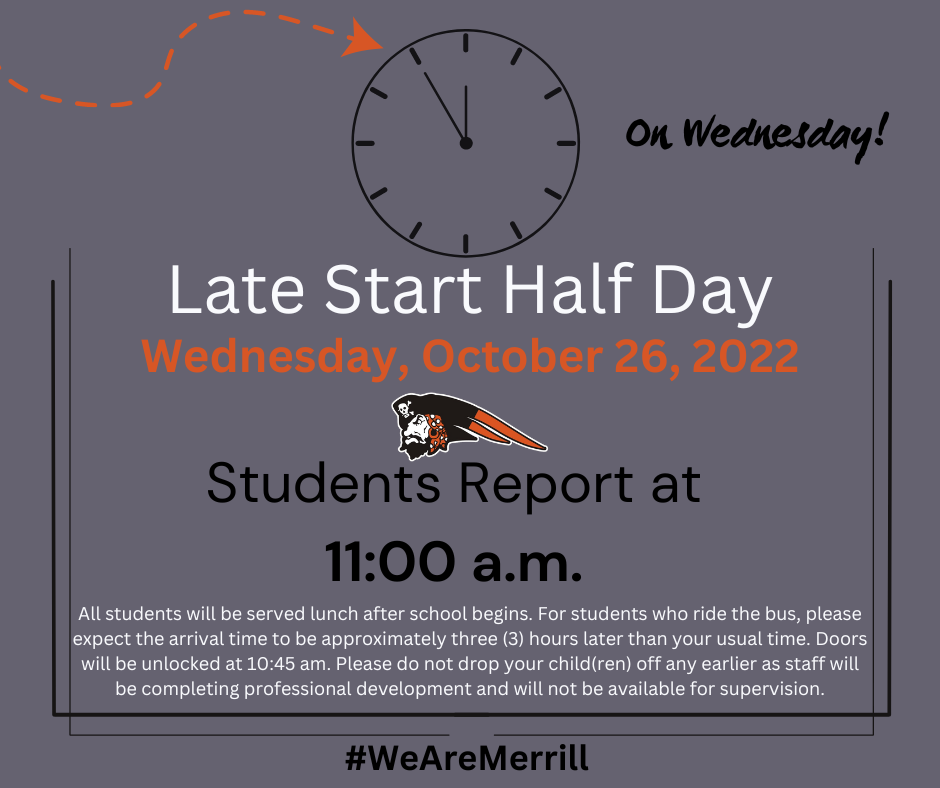 On Sunday night playoff brackets were unveiled. MHSAA released the the pairings for the regional semifinals. Due to our undefeated season and high score in the rankings, Merrill has earned the homefield advantage . Your mighty Vandals will take on Indian River Indian Lakes this Friday, October 28, 2022 in our very own stadium. Athletes and coaches spent Sunday afternoon donning our home field with the Vandal logo. They will spend the week prepping for the first round of playoffs. The Vandals finished the regular season 9-0 and the Indian River Inland Lakes, 6-3. They will face off for a place in the Division 1, 8 player, Regional Finals. Come support the hard work and talents of our first undefeated team in over 20 years in the Vandal Stadium this Friday at 7:00 pm. #WeAreMerrill #VandalPride #Undefeated #PlayoffBound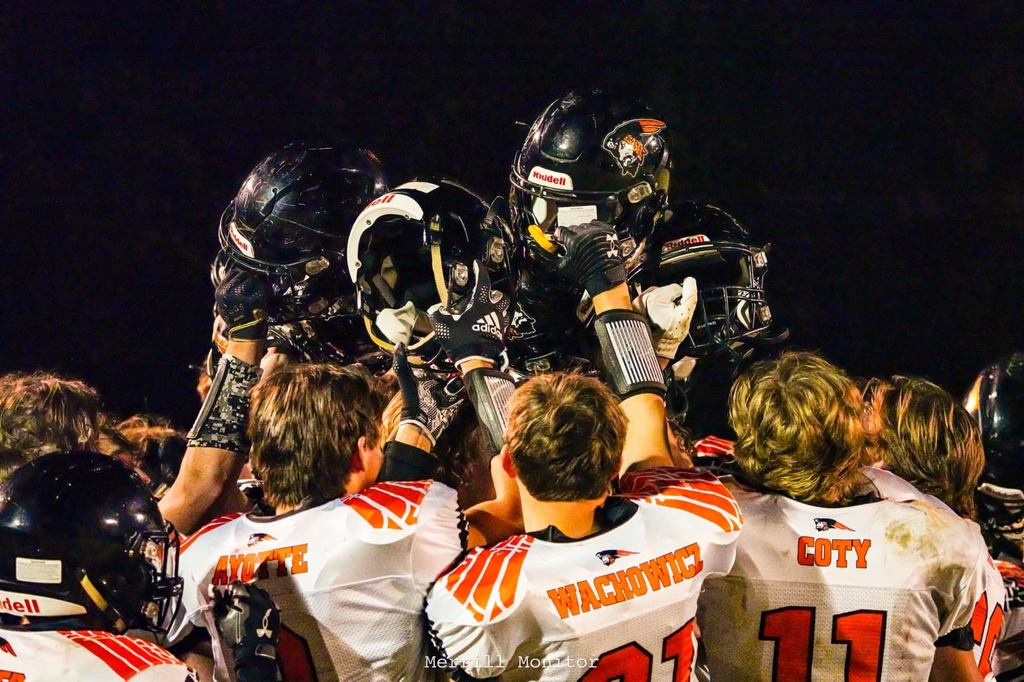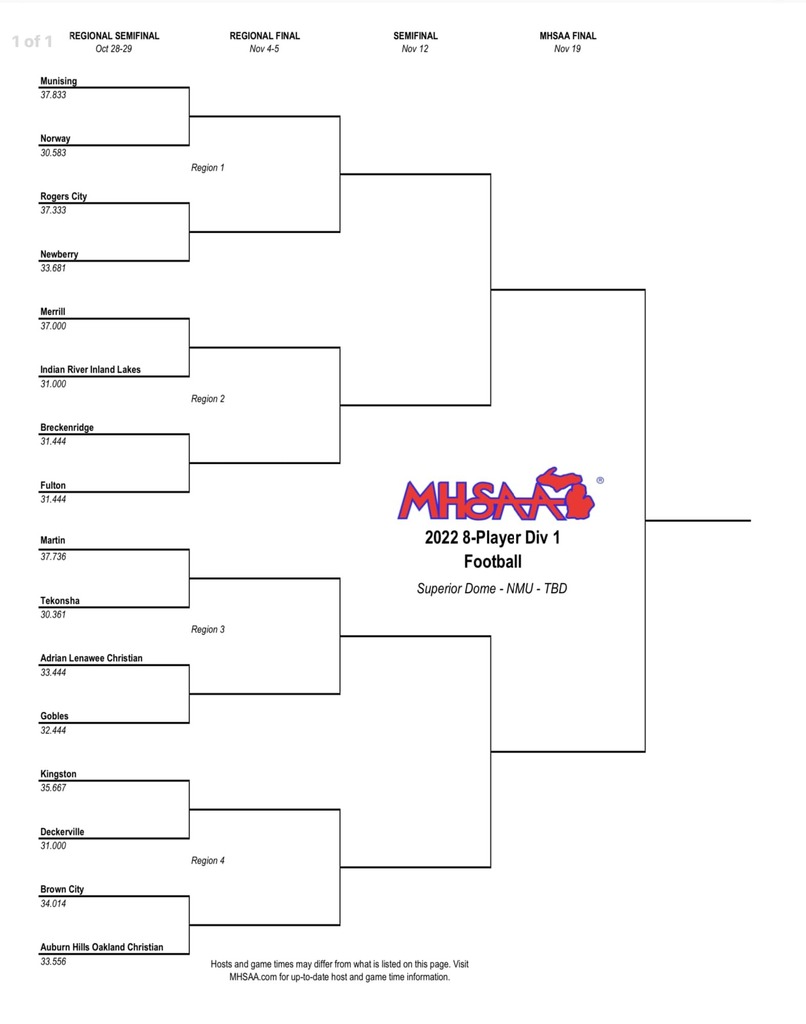 Don't forget tonight is the last regular season game for your undefeated Merrill Varsity Football Team! Come on out to Coleman for a 7:00 kickoff to support these athletes as they push into playoff season! #WeAreMerrill #VandalPride